For decades, football had remained a sport with a pre-dominantly local, restricted audience, governed by the number of people who could enter the stadium. It was the national game of the working man, where on a Saturday afternoon a few coins at a turnstile afforded a few hours escapism from the dreary everyday, and a subliminal flirt with tribalism supporting your local team against a rival.
Communities were united, friendships were forged, heroes and villains were cast and on rare occasions legends were born.
The financial dynamic, or football as a business as we've come to know it, changed somewhat in the seventies with TV money, and then irreversibly with the huge influx of Satellite and Cable TV money in the nineties, enabling the beautiful game to be beamed globally with matches monetised. The restricted audience was no more, and the game was now global.
The cash rich days of football clubs, where many a shifty owner roamed and money was easily laundered were disappearing, The count ups of gate receipts and matchday takings under the stands during and post-game, meticulously triple checked prior to being deposited in the club safe over the weekend before being banked on a Monday morning, though not superfluous, were no longer fundamental to the financial well-being of those clubs in the upper echelons of English football.
This is what is referred to as a paradigm shift, whereby the standard or commonly accepted way of thinking about or doing something changes and is replaced by something new or different.
If we fast forward through listening to the radio, grabbing a copy of the Evening News, using the phone box, a few FA Cups, through teletext, coming third in 86, and the first mobile phones, we'll promptly arrive in 2019 with social media now representing the latest paradigm shift in how we choose to communicate with each other and digest news and "content".
It's critically important that we as West Ham fans recognise just how important Social Media actually is and just how incredibly powerful it's become. If you're still unconvinced, consider that in the time you've spent reading what I've written, over 350,000 twitter "tweets" have been made, and over 30 million messages sent on Facebook – it's nothing short of a phenomenon.
It's with that in mind I felt compelled to write this piece to draw attention to the partnership that our club, led in this instance by its Digital and Commercial Officer Karim Virani, has signed up to with Socios.com.
You may have missed the article on the club's website and there was limited debate on kumb.com.  The article which is here (West Ham United agree partnership with Socios.com ), talks of the excitement and delight at the opportunity to explore state of the art digital platforms and give fans who live a mile or a thousand miles away, the best possible experience. . . (the best possible experience I'll come back to another day) but what really set off a red flag for me, was the statement by Alexandre Dreyfus, the CEO of Socios.com which I quote straight from the original article on whufc.com :-
"Having a club like West Ham United adopt fan voting is a big step in realising our goal of building the world's biggest global football community and marketplace for football fans, alongside demonstrating that blockchain and cryptocurrency is the trusted technology of the mainstream. "We will be announcing more European partners very soon, and hope more Premier League clubs will follow West Ham's leadership in creating best-in-class fan engagement."
Mr Dreyfuss is an admirable and incredibly interesting man – a Fintech investor with a background in online poker and gaming, who has leveraged a network that seemingly stems across some of Europe's most powerful families, to build up and then sell his interests in a .com and gaming type businesses.
These past six years his focus has been on Mediarex, a British Virgin Islands registered entity that provides a number of different on-line, livestream interactive poker games and tournaments via a type of global identification system, pioneering a platform that hosts Poker Leagues, and Chiliz, a most interesting organisation that believes in a concept known as "Radical Fan Engagement" which it wants to achieve through the use of its "Crowd Control" Engine.
I do of course appreciate that I'm just a regular football fan, doing a sixty hour week, and am not particularly well versed in the digital world, however terms and language that I find distasteful, such as "crowd control" and "radical" do little to assist me in envisaging a better fan experience, tending instead to make the hairs I no longer have on the back of my neck stand up, virtually at least.
What I believe should be of great concern to every West Ham fan, and any other fan whose club looks to take this route, is that blockchain and cryptocurrency certainly is NOT the trusted technology of today – quite on the contrary, it's still a relatively fresh form of digital technology that generally prevails independently of government authorities or private institutions. There is absolutely no central server, no administrator, no national boundary, no owner, and it is at the forefront of conversations about the future of democracy, money, legislation, personal information, health, security, insurance, and more – to the degree that some people are even discussing whether it could cause a major disruption to the global and national traditional infrastructures we all depend upon to conduct our everyday lives.
Perhaps it should be of little wonder that such an elusive to regulate technology is being championed by an organisation that sees its leaders battle hardened after years of creating business models that to survive, had to remain one step ahead of legislation.
More to the point, I'd hazard the vast majority of West Ham fans care precious little for the goals and objectives of Socios. Chiliz or Mediarex, and their apparent quest to change the way that fans enjoy football. What I (and they) do care about is West Ham United Football Club and its legions of long suffering fans who again appear to have been completely circumvented by the club as it ploughs forward with another decision that can have a major impact on their footballing experience and relationship with the club, without any prior consultation with them, its core supporter base.
Now I'm a firm believer in improving fan engagement, and fan experience, it's one of the reasons that I joined Hammers United and proudly sit on its committee.
But what I most strongly object to is the further monetisation of supporters without consultation, whilst the continually ignored points that the four thousand supporters that I and my fellow committee members represent, are being ignored wholesale.
I remain dismayed at the total apathy and disrespect that the current board and its officers continue to show all West Ham fans by making decisions like this without any consultation whatsoever to its fans.
The thought of children having to pressure economically challenged parents to purchase tokens so they can game with or influence the West Ham virtual brand, well surely that has to present ethical questions which at least are deserving of debate? They certainly should draw the attentions of the gambling commission whose own code states protecting children and other vulnerable persons from being harmed or exploited by gambling is at its heart.
I would also have expected any kind of application led activity that can influence outcomes at a football club would entail the utmost of scrutiny from respective governing and legislative bodies, and yet there has been barely a whimper from them on this – on behalf of our members and fans everywhere, Hammer United will actively be encouraging them to introspect and help to provide some visibility and understanding here.
In a manner which has become synonymous with the dubious custodians our great club currently has at the helm, we appear to be being frog-marched through the gateway Blockchain technology presents here – well this chap, and the four thousand members behind him are mutineering, and dropping the blockchain and anchor on this one.
We believe that the database of our fans at West Ham United is an extremely valuable asset in its own right and stands at circa seven hundred thousand members according to our club source. Unlike most other "customer" databases, West Ham fans (and all football fans in fairness) have both great love and loyalty to their club and are commonly recognised as being incredibly emotional when engaged. To open any commercial platform, enabling a third-party organisation to manipulate its loyal fans when they're at their most emotionally vulnerable state raises a number of further questions of ethics which we believe are worthy of debate.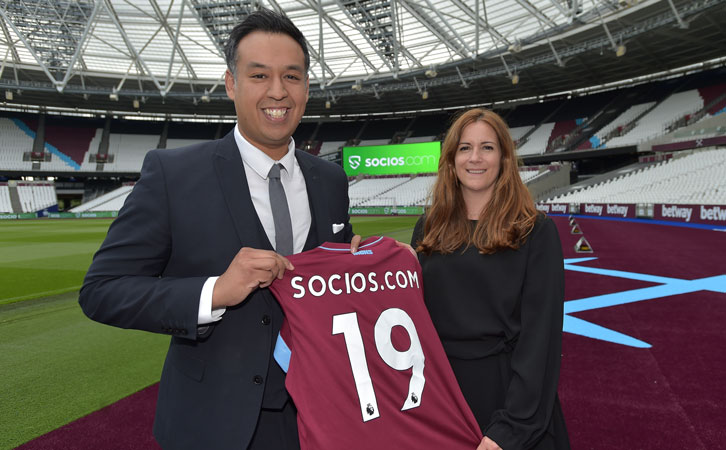 The thought of running mini-ICO's to fund player purchases, to raise money for tournaments and choosing the team – these are not commodities that the club in our opinion has the right to sell.
We and our members believe that as football fans, we have basic rights of entitlement, and it is these that are seemingly being thrown up for grabs, commoditised and monetised, giving way to sections of our support becoming further alienated from the club they love.
That is completely unacceptable.
I feel it timely to remind our CEO and her Digital & Commercial officer that West Ham fans do not take kindly to the custodians of its club behaving like voraciously mercantile, privacy invading offshoots of the KGB, hiding behind a wordy privacy policy that most of its supporters do not understand.
They would do well to remember that its loyal supporters expect to be treated with respect for the love they have, the time served support they have given, and for the commercial contribution they continue to make to the football club.
The last time West Ham fans believed they were being unfairly commercialised, Karen was selling space in the soft-porn vehicle that was the misogynistic The Daily Sport, Karim was still at primary school and Alexandre hadn't picked up his first deck of cards. The actions of the then custodians of our great club triggered the bond scheme protests of November 1991 – perhaps a quick call into Peter Storrie down under would provide a seemingly much needed history lesson and a heads up on how not to treat the West Ham faithful.
Accordingly, I will be writing to both Karim Varani and to Karen Brady on behalf of Hammers United, again seeking an audience to discuss these most disturbing matters.
Tross